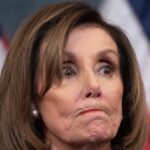 During a private one on one, our Speculative Investigative Reporter, Sir Ben Gunn, once again has a leg up on our competitors. Speaker Pelosi was asked about her new agenda for a possible Biden administration and what were her top priorities after 11 Scotch on the rocks, with a twist of lemon.
"Rubbing and touching Hair and shoulders is number one on Joe's list, but I'm leaning more towards Polar Bears and schools for our foreign strangers from Nepal. Do you know they have no high mountains to hike up or even down? And so I am making it a goal of mine to build a 30,000-foot mountain in Utah. Equipped with mountain goats and running water and maybe one of those Yeti things."
And from there it got worse. She was really starting to freak me out. So I called the Medics as she began to babble nonsense…
"Small stinky Sherpa shepherd, Sam Stucco Stavinki, steered sixty-six sheared shivering starving sheep Southeast.
Seeing ship, shipping sheep, Sam signals ship's skipper, Sexy Susan.
-Stop-
Sexy Skipper Susan Spa'dum says," sending squad South searching stretching sands, seeking sheep slipping straight South."
-Stop-
"Shit! Sexy Susan, stop sliding south," said smart sober sower Sam, seeing sextons slight shift, since sending Susan special surveying sights Southeast.
Seeing signaling statistics Sam shouts, "Susan stop! Shit! Southeast, shithead. Stop sending sailors South. Shit."
-Stop-
Sam shoots slingshot. Stones soar South striking ships sign.
Sign slips. Swaying sign striking Susan's skull says, 'Slack Smackers Sink Ships.'
Scum sucking Susan stays standing shouts, "Sam? Suck sheep shafts!"
Sex starved Sailor's stargaze, swell, salivate, slobber, spit, standing side-by-side say, 'Strike.'
Substitute Skipper, Scott Sardine Soprano'vich, stumble's sloshed sipping Scotch, slaps Susan silly.
Strong seasonal soaring sea swells send shivers sideways. Silence…
Sergeant says, "sorry Susan, seasonal seas swelling, ship sinking. S.O.S. Shit!"
Sexy Susan stays stubborn, starts siphoning single sailors, sanguine second say.
Stowed steins staggered, soup sloshed, sick sailors, swayed, shipmates showing stained skivvies, shitty striped slacks stand spurious, saluting Sexy Susan's special signalman signalling skills, saying, "send salutations saying, Skipper Susan stubbornness sucks. Save S. S. Sandpiper. Send S. O. S."
-Stop-
Ship sinks, sharks snack, sheep safe, swimming slightly Southeast.
Susan sinks, skills suck. Sam smiles… 'Bitch.'
After that, the men who took her away, just shrugged and said, "When it comes to this broad, it's like Groundhog Day for us."
On a side note… she was originally cast as Lurch in the Adams Family.